November 2nd, 2012
Posted by: andrew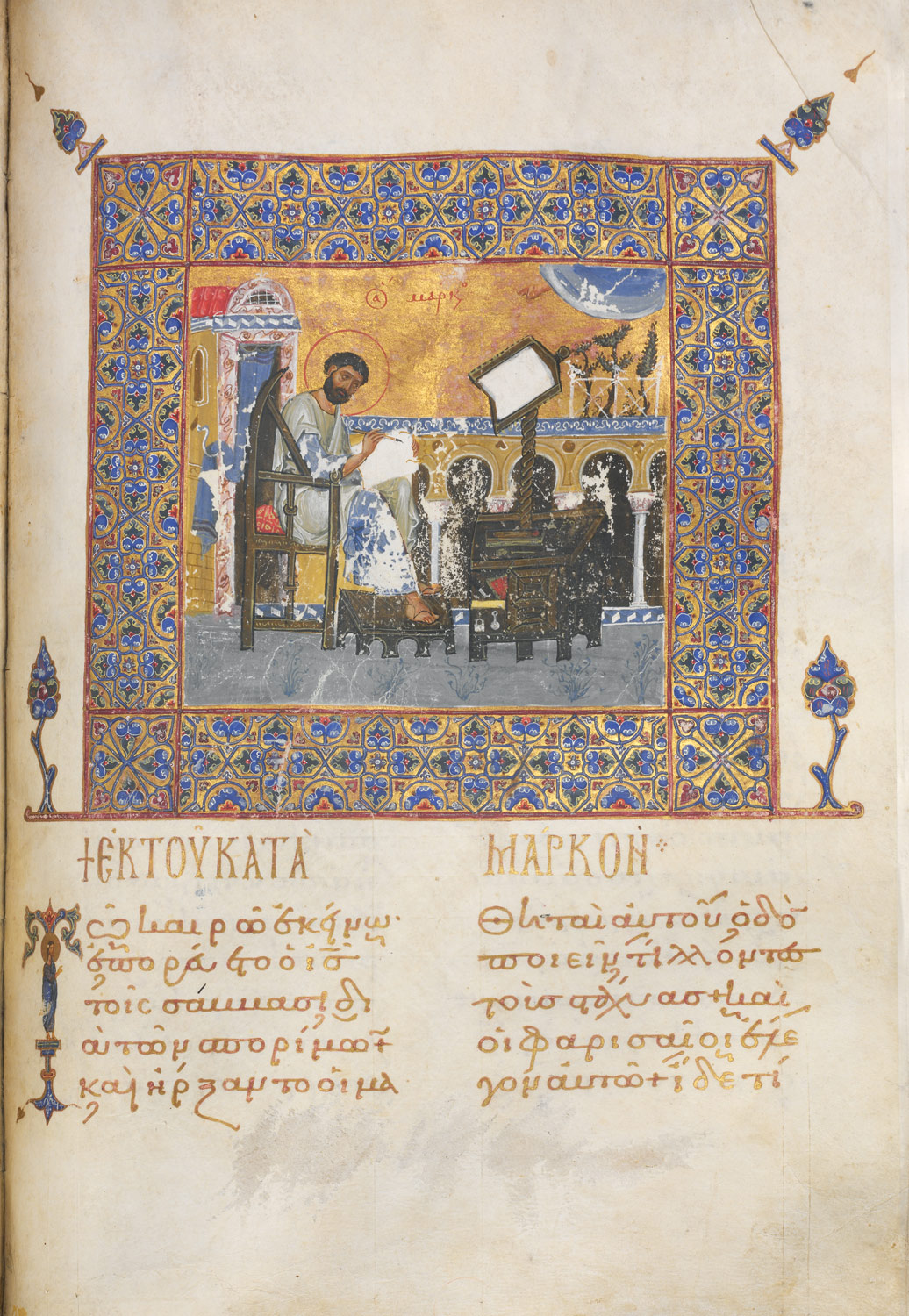 The illuminated manuscript is looked upon as an especially unique art form as each one – created well before the printing press – was adorned by a person with a steady hand and a very detail-oriented mind. These manuscripts were elegantly illuminated and the images were a fitting complement to the beautiful words from scripture or the hymns that they adorned.
Having the right images – great images – to adorn your website and complement your site text can make all the difference on whether someone spends time on your website or moves on to something more visually appealing.
In a similar fashion to how the images illuminating the manuscripts made the scripture pages unique, the images that you post to your website serve to bring a unique feel to your parish website. Your parish website serves as an extension of your ministry and it should do its best to reflect not only beliefs and traditions of the Orthodox Christian Church but also the life of your parish and its ministries.
As careful thought and time are put into developing or editing the written content for your website, the same amount of effort should be put towards the visual content as well.
How can images enhance your website?
As the saying goes, they can be "worth a thousand words: The right images to complement a body of text can not only beautify the page but can also help with breaking up especially long pages and provide a much needed rest spot for the eyes.
Visual Connection: When added to a biography or to the written life of a Saint, the right images can serve as a way to connect the viewer to a particular person whether contemporary or from the past.
Advertisement: The right photos taken during Church services, ministry gatherings, or parish events such as picnics or festivals, can serve as a way to capture the interest of your visitors and serve as an invitation to your liturgical services, ministries, and events. 
Now that we have a few examples of the roles that images can serve on your website, how can you best work towards obtaining, choosing, and implementing the right images?
If it is possible, use professional photographs. Clean, crisp, well-lit photos of your parish and parish events can bring life to your site. If hiring a photographer is not possible, perhaps there is someone from the community with a steady hand and a good eye for composition can assist you.
Less is more! Choosing the best large photos to use rather than using a collection of smaller photos on a page can be more effective.
With photo galleries less can also be more.So many website administrators get into the habit of uploading the entire camera memory card to their online gallery after a parish event because it gets something online quickly and easily. Avoid posting images simply for the sake of posting images. Instead, take the extra time to weed out:

1. Multiple shots of the same photo and any unnecessary sequential photos
2. Any photos that might not be considered practical by others viewing the site. Remember, with your photo gallery, you want to be able to tell a visual story with your photos.

Be sure that you have the right person working on your sitefor posting images and photos. Here are a few pointers:

1. Images that have a large file size will take too long to display
2. images that are too small or those that are of a poor quality (e.g. they look grainy or "pixelated") may not be as helpful as you intend them to be
3. images that are too large in size can appear to break page and make it difficult for the visitor to view or navigate the website.

Keep 'em fresh! Update the images on your site regularly. This keeps your website "alive", shows your viewers that your parish is active, and it shows that there is great care and attention paid to your internet ministry.
October 15th, 2012
Posted by: Jamil
Though a seemingly simple (and necessary) addition, we have finally added the Prokeimenon listing to our epistle readings on the Online Chapel and Daily Readings Mobile Apps.  You may be asking "What is the prokeimenon and why are you showing it to us now?"  Well, in the Orthodox Church, a Prokeimenon (Greek Προκείμενον, pro-kee-men-on) is a verse (usually from a psalm) chanted to introduce a scripture reading.  In Matins, the Prokeimenon "Let everything that breathes praise the Lord" precedes the Matins Gospel. In Vespers, there is not always a scripture reading, though there is always a daily prokeimenon (one for every day of the week).  For services that commemorate a major saint or feast, readings (usually Old Testament readings but not always) will follow the daily vesperal prokeimenon.  In the Divine Liturgy, the prokeimenon is recited before the Epistle reading, and it is this one that we have added to our readings.  Now, there is another one that follows the Epistle (preceding the Gospel) which is sometimes called the 'Alleluiaron.'
Now, as to why we are just now showing the Prokeimenon before the Epistle reading, well, there's no real good reason.  It's not the most complex calculation, but we just recently got around to programming it in!  This is one of hopefully many additions that we will bring to the Online Chapel to make it a more useful offering to the faithful who use the Archdiocese website and our department's various services. Future additions include more language options and expanded resources for saints and feasts.
So, what else would you like us to add to the Online Chapel?  We know there is so much potential, but we want to know what's most important to you!  Leave a comment below!
September 25th, 2012
Posted by: Meredyth
The newest Daily Readings app for iOS and Google Android is out and ready for download!
Let's discuss Android first:
There are some bug fixes to help with devices running Jelly Bean; the addition of the Prokeimenon before the Epistles; on option to turn the Prokeimenon off, if you just want to see the readings; a decreased file size to help with space management; and support for landscape orientation (although you cannot change the orientation while running the app, it will run in the orientation detected upon opening).
Download the app for free here, and get  a few more extra features by downloading the $.99 (USD) app here.
Now on to iOS:
The iPad version is officially released.  This new Daily Readings utilizes the iPad's big screen to give you the readings quickly and easily.
Download the free version here, and for $.99 (USD) get some extra features here.  Have you already paid $.99 for the app and don't want to pay again? If you're logged into your iPad with the same Apple ID used when paying for the iPhone app, you don't have to pay again. Just download and enjoy!
Also, if you are currently using iOS 4.3 on your iPad and have experienced crashing with the Daily Readings 1.3 app, make sure you upgrade to the newest version, 1.3.1!
July 19th, 2012
Posted by: Meredyth
The Internet Ministries Development Team has received many requests to release an app for the iPad. We're happy to say that – in the near future – the Daily Readings app (free and paid) will receive an update that will include an iPad version.
The new release (1.3) will have all of the same features as the iPhone/iPod version – for now – with a few changes:
We're taking advantage of the big screen! More content on one page and less buttons that need pressing. This means quicker and easier reading for you.
Text too small? Don't like Times New Roman? Change the font size and type quickly without having to leave the reading.
For those of you with the paid app, you'll find extra information for each feast in the Movable Feasts tab.
Already paid $.99 for the app? If you're logged into your iPad with the same Apple ID you used when paying for the iPhone app, you don't have to pay again. Just download and enjoy!
Here's a sneak peak of the $.99 version:
Don't see something in the above list that you were hoping for? We're already planning the next release with lots of additional features! However, if you haven't already, send an email to dailyreadingsapp@goarch.org and let us hear your ideas.
We'll make an announcement when the app is in the App Store. So, stay tuned!
July 8th, 2012
Posted by: Jamil
The 2012 Clergy Laity Congress has come to a close, and it is time to return home, but everyone here in our Department is re-energized to continue to serve the parishes and organizations from around the Archdiocese once we get back to Boston.  It was so great to meet so many of you this week, especially some with whom we've worked for many years but never had the opportunity to meet until this week. Thank you for the suggestions and feedback that you have given us so far.  There are both blessings and challenges of working with technology and the internet: one one hand, there is never a boring or slow day in the office because there is always something new to learn, while on the other hand, progress and change happens at such a dramatic rate that it is sometimes difficult to keep up.   Please let us know how we can better serve you over the coming year.  We have found it beneficial to work with many of you in person.  If you would ever like us to come visit your Metropolis or parish, please let us know, and we will see what is possible.
July 3rd, 2012
Posted by: Jamil
We are in the heart of the Clergy Laity Congress and things are moving along smoothly.   If you're here in Phoenix, please come by to learn about our products and services.  We are at the end of the first aisle on the left, but that hasn't stopped many people from finding us.  If you were not able to attend Clergy Laity, let me share with you about some of our new and exciting products and services:
eBooks of the DRE "My Orthodox Prayer Book" and Archdiocesan School of Byzantine Music "Byzantine Music: Theory and Study Guide"
Updated Children's Bible Reader Online at cbr.goarch.org
Daily Readings app for iPhone, iPad, Android, and more at mobileapps.goarch.org
Updates to www.orthodoxjobs.com including accounts for job posters (parishes and organizations), job seekers (resume posting), and businesses (searchable business directory)!
New, but still free, hosting platform with new templates and content mangement system options for parishes!  internet.goarch.org
Sneak preview of the new Bulletin Builder!  bulletinbuilder.org
June 28th, 2012
Posted by: Jamil
With the Clergy Laity Congress quickly approaching, we are very much looking forward to being in Phoenix to meet and work with many of you from around the Archdiocese.  It's always nice to see in person those who we are serving throughout the year and to reconnect with old friends.  We have been hard at work preparing the release of several new products as well as to make improvements to several existing ones.  If you are able to make it to Clergy Laity, please come by the booth to meet us and learn about what we can do for your parish!
May 29th, 2012
Posted by: Internet Ministries
Many of us parents may recall the star charts we had when growing up. If I, say, made my bed in the morning I got a star; I'd get another star if I took my plate to the sink. After a certain accrual of stars then I'd get a price of some nature. Many parents may also be like me, struggling to come up with a fun way to motivate their children to clean their room; turning things into a game usually can get a younger child to clean, but what about children who are a little older? I recently found an online / iPhone app called ChoreMonster. What is it exactly? The creators of ChoreMonster explain the basics in a January interview:
Parents log-in and see a dashboard where they can create new chores or approve chores that have been completed. A separate dashboard accessible only to kids shows the latest chore assigned, a tally of points earned and a list of potential rewards set by their parents (like a trip to the zoo or a new LEGO set).
Essentially, they've reinvented the star system, adding a whole cast of customizable mosters a-la Maurice Sendak, in-game prizes in addition to the potential rewards, and a helpful set of tools for parents to track their child's progress. This combines token rewards for immediate gratification to keep momentum towards the larger goal. It seems like the perfect way to encourage children to do their chores; even we adults do better with task-completion when we get even a token reward. They're still in beta, but you can sign up here.
May 1st, 2012
Posted by: Internet Ministries
We've received many questions about the two different Daily Readings apps for both the iPhone and Android devices. Some are concerned that their app has changed and they've lost functionality. They are right that the app changed, but there is actually more functionality in the Lite app than there was in the original. Here is how things have changed:
The Daily Readings Lite app is the same app as before, but we've included the ability to switch screen orientation and text size.
The Daily Readings Full app has the ability search saints and movable feasts, and gives you the ability to view the entire app in Greek.
We hope this answers your questions. You can go here to read more.
April 16th, 2012
Posted by: Internet Ministries
PBS has developed a kit for parents to help their kids become active viewers when watching TV, and you may find it helpful.
Instead of zoning out in front of the set, your child can become an active viewer. How? By learning to ask questions about what he is seeing and hearing. Even if you don't know all the answers, wonder out loud with your child about the shows you watch together. This will let him know that TV shows don't have to be any one way. Instead, each show is the product of many decisions that people made along the way.
You can read more here.